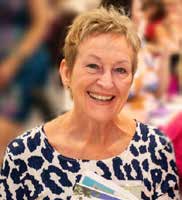 Who are you and what do you do?
I have a varied background. Commercial art, Banking, Finance and Sales. That all makes for a solid business foundation in the area I have chosen, Graphic Art, where we design, print and sign.
Tingal Graphics provides graphic design services and for most of our clients is a one-stop shop, providing the whole suite of items, from logos to flyers to business cards to corflute signs to magnets and vehicle graphics (and lots of other things).
How long have you lived or worked in the Wynnum area?
My family has lived in Wynnum for over 33 years – love it! Workwise, we were on Cavendish Rd Coorparoo for about 12 years. Then we operated from a warehouse on Fleming Rd Hemmant for about 5 years.
It must have been 2005 when we moved to Twin Parks S.C. Tingalpa, but the last 5 years we've worked from home in Wynnum – most relaxed and most satisfying to date. (We also had shops West End, Rocklea, Aspley, Spring Hill, Noosa)
Any unusual work requests or memorable clients?
I have to say we do have memorable clients.  Some very well-known – but I don't want to be a name-dropper. Some of the most rewarding projects have been with First Nations Group, Raindrops of Diversity. Janice and Michelle are 2 of the most sharing, caring ladies I have ever met – we do love a yarn. I must also mention Kevin Liepins. We have worked on Wynnum Manly Visitor Guide and Wynnum Manly Views for several years. In fact, it has been over 10 years that we have worked with Kevin – been a pleasure.
What do you most love about Wynnum?
Wynnum is my village. I very rarely have to leave the village for anything. I can source just about everything I need right here, including fashion. One of the things I love most is the feeling of familiarity as I wander around from Lota to Wynnum North and all coffee shops and bars in between.
How would you describe Wynnum as a person or character?
Now that is a hard one. Apparently, Wynnum's European history goes back to the late 1800's. Before that the area was home to some of the thriving Quandamooka people. So, as a character, I would describe Wynnum as a multi-faceted, principal player in the future of the Southeast area of Brisbane.
What are you most looking forward to in the future of Wynnum?
Commercially, Wynnum is evolving week on week. That is wonderful to be experiencing. Just a thought though, given the rich history of our First Nations People in this area, I would like to see more evidence of that. Perhaps more artwork, a bit like that at the Wynnum Jetty. Maybe along the foreshore or on our council street signs. Some added colour and pictorial history thrown into the mix along with the diverse new business owners and residents – that's what I would like to see in the future – more diversity!